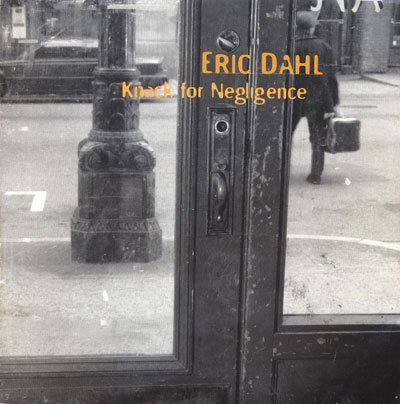 Shot to the Head
Ordinary Computer
Breakfast in Bed
Cadillac Voice
Steel Love
High Voltage Line
Untitled for Kurt Cobain
Crescent Moon
Knack for Negligence
Millicent
Buzzin
Up on the Block
Knack for Negligence, Eric Dahl's first CD, was recorded in the Seattle studio of guitarist and video artist John Hawk and released in 1995.  Ten of the twelve songs were written over a ten-day period that ended with a song for Kurt Cobain, the day after he died. The subject matter of the collection ranges from the attractions of a raunchy downtown bar (Millicent) to the memory of a love story set in the eastern Washington wheat fields (Up on the Block) to a meditation on compassion (Crescent Moon) to a meditation on flies (Buzzin).   
Chris Nikson of The Rocket called this collection "one  of the best CDs by a local singer-songwriter that I have heard in a long time."
Sharon Wootton of the Herald added: "Dahl relies heavily on Northwest images . . . but his songs aren't parochial in a limiting sense. There are the broader themes of relationships, the complexities of life, and childhood. In fact, one of the best lines on the introspection scale is: "Strange how childhood's never over when it's done, shades each promise like background noise, up on the block."
"Singer-songwriter Eric Dahl, a native of Colville, explores the rural and urban sides of Northwest life with the keen eye of a poet-psychologist. On this CD, his debut, Dahl's striking voice, slightly raspy and heavy with melancholy, maneuvers through 12 story-songs of troubled lives."
Gene Stout, The Seattle Post-Intelligencer.