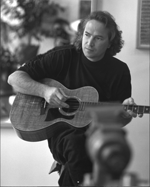 Eric Dahl is a singer songwriter from the Pacific Northwest who has lived and written in Seattle, Austin, and Athens, Georgia. He studied and published poetry while at the University of Washington and at Oxford University where he won the Isis Poetry Prize. His songs and albums blend folk, rock and country styles to explore local settings and situations with immediacy.. The reviewers archived by this site regularly recognize the quality of Dahl's poetic imagery and psychological insights, and the expressiveness of his singing.
His newest collection, Lost Illusions, offers twelve songs written between 1975 and 2020, all of them concerned with people, experiences, and historical events in Seattle and King County. The CD is scheduled for release in July 2021. His highly acclaimed first CD, Knack for Negligence (1995) is equally focused on tales from the Pacific Northwest--ranging from the disorientation of a Seattle aerospace engineer at a Sonics game (Ordinary Computer) to a love story set in the wheatfields of the Palouse (Up on the Block). The new collection offers a return to the artist's creative origins.
Dahl moved from Seattle to Texas, and during his three years in Austin, he performed in the bars and clubs with both his west coast and his Austin bands while writing and recording more than 20 songs about Texas. These were recorded on the albums Whatever the Jungle (1998) and Live by Your Word (2011). By 2016 the rest of his Texas songs had been gathered into a collection tentatively titled Kingdom Come but never physically released. Some of the individual songs have circulated as digital singles online.
His new album, Lost Illusions, includes three carefully restored live versions of songs recorded live in west coast clubs and bars years ago, as well as nine completely new recordings produced in Athens with studio mastermind and guitarist Mark Maxwell.