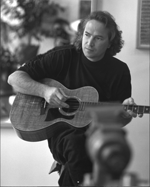 Eric Dahl is an American singer/songwriter from the Pacific Northwest who has lived and written in Seattle, Austin, and Athens, Georgia. He studied and published poetry while at the University of Washington and at Oxford University where he won the Isis Poetry Prize. His songs and albums blend folk, rock and country styles to explore local settings and situations with immediacy. The reviews archived here consistently recognize the quality of Dahl's poetic imagery and psychological insights, and the expressiveness of his singing.
Dahl wrote more than a hundred songs before he ever entered a studio and still has recorded little of this original material. In fact, for his first album-length recording he wrote all new songs, resulting in his highly acclaimed first CD, Knack for Negligence (1995). These songs continued his focus on tales from the Pacific Northwest, ranging from the disorientation of a Boeing engineer at a Sonics game (Ordinary Computer) to a love story set in the wheatlands of the Palouse (Up on the Block).
As his first CD was gaining recognition and critical attention, Dahl moved from Seattle to Texas. He established a band in Austin, performed in the bars and clubs there, and during his three-year stay wrote and recorded more than thirty new songs. These form the basis for a trilogy of albums. Whatever the Jungle (1998) offers his first songs about Texas events and conditions like dry lightning, a withering drought, and margaritas. Live by Your Word (2011) is a collection of psychological portraits of different Austin characters and other natural wonders, such as a historic longhorn ranch in Bandera and one of the region's worst tornados at Jarrell.
Most recently, he has completed the third and final album of his Texas trilogy, Three Pawn Shops (2021). These songs remember several Texans he has known personally and admires. In the context of the current epidemic, he explains, "My admiration for Texas is vexed by the fact that more than 70,000 Texans have died of Covid under the watch of leaders who oppose public health behavior that could have saved many of those lives.
With his Texas trilogy now fully produced, Dahl has been preparing a new collection of songs to be released in 2022. These stories go back to Seattle, some new, some written years ago, when he lived in that city.